Pagani Imola – Intervista su Marbella Design Magazine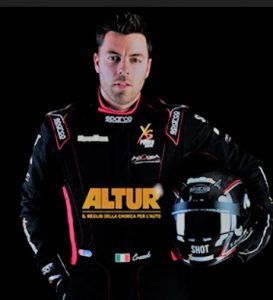 Federico Crozzolo
Is an italian professional race driver and Sport cars specialist.
He began his career in 2009 in Italian motorsport from Formula
to Gran Turismo with competitions in Italy and internationally.
He has worked for the most prestigious italian Supercars
brand and He has been test driver and developer for several
important manufacturers. In the world Pagani he has
collaborated in the Pagani Raduno official events. Federico is
also partner and Sales Manager of Magna Supercars, a luxury
supercars company specialized in sale and consultancy of
sports and investment cars, located in Marbella
PAGANI IMOLA
A CONCENTRATE OF TECHNOLOGY FOR THE TRACK AND THE ROAD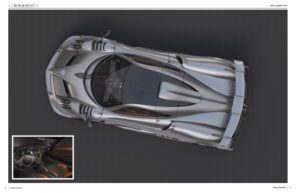 The new Pagani Imola, which takes its name from the circuit on which it was molded and developed, is a road Hypercar with an absolute racing character, which embodies the maximum technology on the track signed by Pagani Automobili. Production limited to just five example, all sold out.
Pagani Imola has been the protagonist of the most rigorous cycle validation on track ever applied to a Pagani car. In addition to the regular and already scrupulous validation, in fact, Imola has traveled over 16,000 km on the track at race speed, the equivalent of about three times the 24 hours of Le Mans. Pagani Imola was born from the desire to create a tailored suit, a natural extension of the customer. We wanted to amaze and excite him, but also to make him an active part of the development of the machine.
The aerodynamic character of Pagani Imola emerges from three concepts. The general shape, the internal aerodynamics and the external aerodynamic details such as fins, wings, deflectors ", says Horacio Pagani, Founder and Chief Designer of Pagani Automobili." We cannot call it an elegant car. We were looking for an effective car and this led us, as when we observe a Formula 1 car, to conceive a car richer in aerodynamic elements. If on the one hand these details interrupt the lines and aesthetics of the car, on the other they improve lap time, ease of driving and, above all, safety. On this last aspect, we could have reduced the height of the car from the ground, taking advantage of the large surface of the flat bottom in order to increase the downforce effect.
But – remember – the irregularity of public roads can lead to the loss of several hundred kilograms of downforce in a few moments.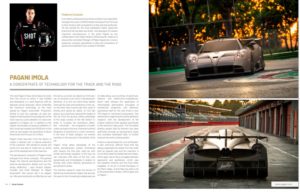 In the face of these dangers, we worked carefully on the top and on the details of the
car. Pagani Imola takes advantage of the active aerodynamics system introduced with Huayra, the first ever road car with similar technology supplied. In this way we can intervene with each of the four cars
dynamically and immediately in relation to driving, even when braking, generating an
aerodynamic brake. The extreme research under the banner of lightening conducted by Pagani has led over
the years to the increasingly widespread use of noble alloys, such as those of aluminum, titanium and edilchrome-molybdenum, which have allowed the application of intermediate optimization principles of mechanical properties and lightness, expressing itself for the new Imola in over 770 forged or machined components. This
without ever neglecting the careful aesthetic research, with the development of the original material finish applied specifically to the aluminum alloy parts. The innovative braking system built by Brembo has been optimized, through an aerodynamic study and countless dedicated tests, to further improve the entire cooling system.
Imola is a sacred place for a car enthusiast. A fast, technical, difficult track that has always separated the wheat from the chaff, both as regards man and the machine. A circuit that made the fastest become faster, which gave rise to fierce struggles between opponents and gentlemen, which saw the sweetest victories and the most bitter tragedies. A circuit in Emilia Romagna, in the Motor Valley. A land that has given a lot to the automotive industry. Which gave a lot to Pagani. "